A display of grace and precision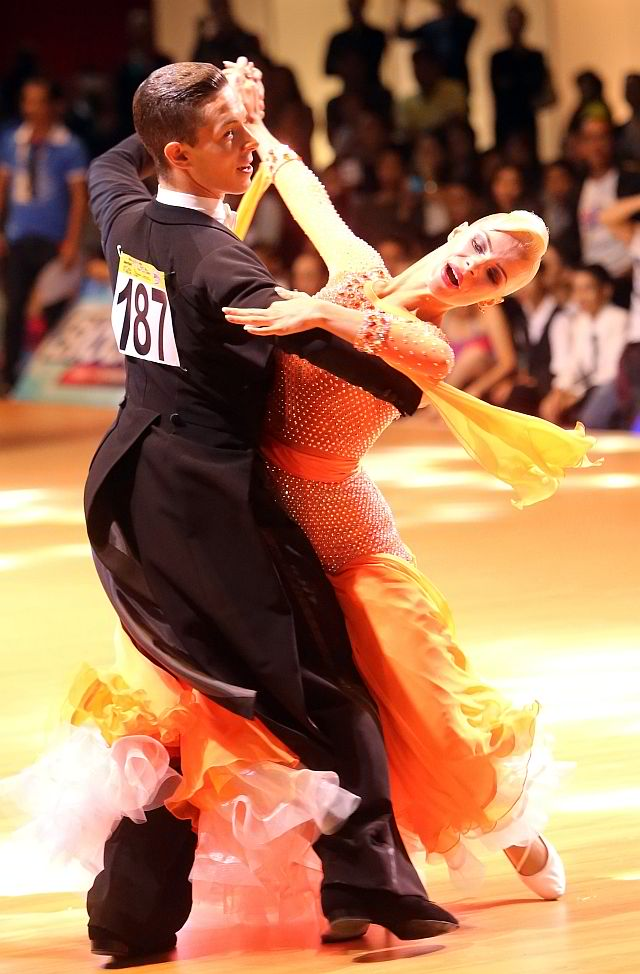 Ladies in killer heels, colorful and glittering costumes and stunning make-up paired with suave gentlemen heated up the dance floor in the grand ballroom of the Waterfront Cebu City Hotel in Lahug on Saturday night much to the delight of the crowd.
Dancers from Russia and Italy emerged as the champions of the Standard and Latin disciplines, respectively, of the World DanceSport Federation (WDSF) Open Category, which was the highlight of the competition that attracted athletes from nine different countries — Italy, Korea, Australia, Kazakstan, Japan, Malaysia, Russia, Spain and the Philippines.
Held simultaneously with the WDSF Cebu Open was the 9th DanceSport sa Sugbu, which served as the culminating activity for about 200 kids from the grassroots program of the DanceSport Team Cebu City (DTCC). Dancing a medley of songs, the beneficiaries aged 4-19 showed off their skills in cha-cha, jive and samba.
Great night for Cebu's bets
Cebu's top ranked dancesport athletes Pearl Marie Cañeda and Wilbert Aunzo bagged the fourth place in the Latin discipline of the WDSF Open category. Cañeda, a 19-year old psychology student of the University of Cebu, said they were very surprised because they were just aiming to get into the final six.
"It was more than enough," Cañeda said of their win. "We already put in our minds that we are in sixth place but still we tried to do our best while we danced because our coach and everyone in the team were watching us."
Another Cebuano couple, Jam Flores and Bert Kevin Deluvio, landed in the semi-finals. Flores, a 19-year-old tourism student of the University of San Jose-Recoletos, said it was their first time to join the Open category and it was a wonderful experience for the pair. Flores said they were very happy about their achievement and vowed to even do better next year.
"I know I'm not quite experienced compared to them so I'm always thinking that I have to look like a champion," Flores said. In dancing, she said, "You have to believe in yourself, you must have the determination, the willingness and the motivation to dance not just to impress others but to express (your) talent."
Twenty adjudicators from the Philippines, Macau, Korea, Japan, Italy, Hong Kong, Kazakhstan, Russia, Malaysia, Bulgaria and Albania were grouped into five sets, taking turns to judge the dancers on posture, timing and basic rhythm, body line, interpretation, foot action, presentation, hold, movement and floor craft. They use smartphones equipped with an app that lets them enter scores. Data from the phones are then transferred into a secured system and consolidated by a software that produces the results instantly.
Starstruck crowd
Maria Alfel Saberon, 31, and her only daughter, Pia Marie, 11, were in the hallway just outside the dancers' changing room. They had taken a lot of selfies with the competitors, especially the foreign dancers. Pia Marie of Pardo Elementary School was part of the culminating activity. It was her first time. She was nervous because there were so many people and the venue was so grand.
Saberon was very happy that her daughter was chosen to be part of the training pool of the DTCC because it is opening a lot of opportunities for them.
Standing on chairs to see the dance floor better were a trio of girls — Jannah Marie Pugoy, 12, of Pardo Elementary School; Ouie Selene Rendon, 12, of the University of San Jose-Recoletos; and Scent Ivanne Boclay, 10, of City Central School. Jannah and Ouie are practically veterans, having taken part of the event four times now. They cheered loudly and chanted the numbers of their favorite couple.
"Lingaw kaayo kay mogara man sila (It's so much fun because the dancers play to the crowd)," said Ouie, daughter of DTCC's head coach Crisaldo "Loloy" Rendon.
"Our coach told us to be friendly to others," Jannah quipped.
Choulju Yun, a 17-year old high school student from South Korea, said it was his second time to join. He said he danced better because the audience was very nice.
Laura Marras of Italy said it was his first time to be in Cebu and the Philippines. "The competition is really amazing. The atmosphere is so friendly. The people, they are so sweet and lovely." Marras and his partner Simone Casula finished second place in the Latin discipline of the WDSF Open category.
Cebu's Reputation
Dumaguete City dancers Camille Marie Enopia, 27, and Reynald Aguit, 24, said Cebu competitions are very intimidating. They noticed there were more categories now, which is good but at the same time very hard because the minimum is the three-dance for adults. This means dancers have to master three dances.
"You really need to be advanced in order to join a competition in Cebu," Enopia, a chemistry professor at Siliman University, said.
Aguit, an alumni of Siliman, said dancesport is popular in Dumaguete City but in terms of having a formal team, their members are still few. They got into dancesport because it is part of their intramurals and their trainors would encourage them to compete.
Enopia said they don't have government support like Cebu City's team does. Dancesport is still viewed as an expensive sport in Dumaguete because many cannot afford to go on out-of-town competitions.
Maria Rebecca "Becky" Garcia, president of the DanceSport Council of the Philippines, Inc., earlier lauded Cebu for being the country's role model in the field of dancesport. She praised the DTCC for helping other chapters in the Visayas and Mindanao and for giving free workshops to underprivileged kids.
Read more: http://cebudailynews.inquirer.net/104874/a-display-of-grace-and-precision#ixzz4KAMt1XVr
Follow us: @inquirerdotnet on Twitter | inquirerdotnet on Facebook