File video taken at Wherelse Dance Studio in Covina CA – April 22, 2009.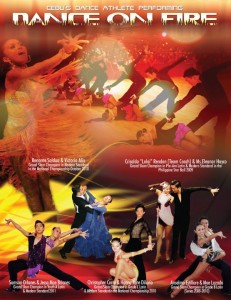 Champion DanceSport Team from Cebu City, Philippines Performs at Gold Coast Aug 21
Showcase Benefits Local Las Vegas Organization and Medical Facility
Las Vegas (Aug 9, 2011) – The international award-winning competitive team Dancesport Team Cebu City performs at the Gold Coast Hotel and Casino on August 21 at 5:00 p.m.. Tickets are a $25 donation that will benefit the Philippine Bisayan Society of Nevada(PBSN) and the PBSN Outreach Program for the Vicente Sotto Hospital Pediatric Ward.
Dancesport team Cebu City's dance-athletes are national and international champions and performers. They are the reigning champions of the Sinulog Mardi Gras Latin Category, and they have performed in Hong Kong, Korea and Malaysia. They will have just competed in the Nevada Starball Dancesport Championships in Las Vegas on August 18 to 20.
Dancesport Team Cebu City's goals for the competition and show at the Gold Coast is to showcase the Philippine group's dance skills, strengthen cultural understanding between America and Cebu City and stoke Americans' interest in visiting Cebu City.The members of Dancesport Team Cebu City are: Loloi Rendon and Eleanor Hayco, Grand Slam Champion in Pro-Am Latin and Modern Standard, Philippine Starball, 2009; Renante Saldua and Ricca Alix, Grand Slam Champion in Modern Standard, National Championship, 2010; Samson Orlanes and Jessa Mae Briones, Grand Slam Champion in Youth A Latin and Modern Standard, National Championship, 2010; Christopher Corro and Hannah Jane Diluvio, Grand Slam Champion in Grade C Latin and Modern Standard, National Championship, 2010; and Anselmo Estillore and Mae Lozada, Grand Slam Champion in Grade B Latin, National Championship, Series 2008-2010For more details, visit DanceSport Team Cebu City on Facebook or www.dancesportcebu.org.
#####
About Dancesport Team Cebu City:
DanceSport Team Cebu City earned an historic gold medal in the Dancesport SEA (South East Asian) Games. They were the first Philippine team to win gold in the International Children's Games in Bangkok in 40 years.With the support of the Cebu City Government, they conduct outreach programs by teaching dancesport year round pro bonoto village children. Volunteer teachers target the remotest mountain barangays (village, district or ward) and depressed areas of Cebu. To date, the volunteer teachers have trained nearly 10, 000 children in dancesport.

Hot number with Dancesport Team Cebu City's Anselmo Estillore & Mae Lozada Roi Rendon & Christy Kim Velez Christopher Corro & Hanna Jane Diluvio at Wherelse Dance Studio in Covina CA – April 22, 2009.
The outreach program was filmed by Korina Sanchez in Rated-K of ABS- CBN and Jessica Sojo Reports of GMA-7 and National Geographic. The team has initiated a year round dancesport and hip hop Barangay Competition every Saturday. On 2009, Dancesport Team Cebu City outreach program, in conjuction with the Philippine Department of Education and Cebu City Government, broke the previous record of Budapest, Hungary for the Guinness Book of World Records for holding the world's "Largest Dance Class" at Cebu City Sports Center.
Dancesport has transformed the lives of thousands of the street kids from different barangays, by developing in them the self- esteem and self confidence to succeed in life. Dancesport is an activity that can lead kids away from drugs and petty crimes, and can be a source of strength and a character.