Building confidence and character in today's kids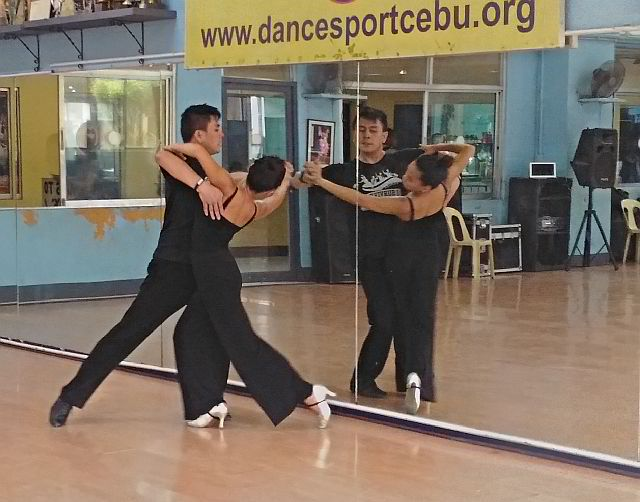 Living in the middle of a squatters' area in Barangay Cogon Pardo in Cebu City, 35-year-old housewife Liza Pedrano says teaching her children good manners can be quite challenging when the neighbors keep swearing and cursing like there's no tomorrow. The neighborhood kids spend most of their time with eyes glued to computer screens, loitering in places with piso-piso machines until 1 a.m.Dancesport has made a big difference in her children's lives, says Pedrano.
A mother of five, Pedrano takes four of her kids to the Cebu City Sports Complex regularly. Her second and third children — Martin, 12, and Ira Mae Christine, 11 — practice dancesport while her two youngest children tag along because there's no one at home to take care of them.
"If I compare my kids to other children in our neighborhood, I can say that my kids are different. Other children have foul mouths, and they just keep playing with computers," Pedrano narrates in Cebuano, referring to Martin and Ira.
She says her husband, an electrician, supports their kids' activities and often bring them to the venues of their shows.
Martin admits he plays computer games, like other boys his age, but rarely.
"Ka'as og kwarta (It's a waste of money)," he says. He finds dancesport more enjoyable, and he has a lot of friends who make dancing even more fun.
In the four years since they've been honing their skills, Ira has already earned two gold medals while Martin has one. While they may not be as many as the other athletes have garnered, Pedrano carefully displays them together with the certificates in their living room. "Ang dungog dili gyud kabayran og kwarta (Money really can't buy honor)," she says.
For Agripina Leyson, 69, of Osmeña Drive in Barangay Labangon, dancesport will provide her grandchildren a better future. In fact, she was the one who pushed her grandkids' to participate in the DanceSport Team Cebu City's (DTCC) grassroots program in which free dancesport workshops are provided to children from underprivileged families.
Leyson now has five grandkids actively practicing the sport. "Mas maayo nga mosayaw sila kaysa maglaroy-laroy (It's better that they dance instead of loitering)."
The DTCC aims, among others, "to encourage dancesport among the youth as a diversion from and prevention of exposure to drug abuse and petty crimes, and to instill and develop the values and virtues of humility, professionalism, perseverance, tolerance, team spirit, teamwork, mutual respect and sincerity among dancesport athletes."
Passion for dance
DTCC Head dance teacher Romeo Jay Cialbo, 35, says the kids have developed a passion for dance; that's why they work so hard. "Murag maluya na hinuon mi kung dili mi maka-practice (It's like we become lethargic if we don't practice)."
Cialbo says the kids often get surprised about how far they have improved when they see videos of themselves dancing. The children used to be very shy but will now eagerly step up to the plate and show their skills when Cialbo asks them to dance in front of the other kids.
"They get more confident as they improve," he says.
Many of the kids in the grassroots program have shown great potential, judging by their success in local and national competitions. Those who excel and have started to win awards are reminded by Cialbo to act as athletes and stay humble and keep their feet on the ground. Those who don't make it in competitions are encouraged to accept the loss graciously, to practice more and look forward to their next competition.
Teaching the kids is purely voluntary for Cialbo, who has made dancing his career. "We at DTCC believe in giving back. We share what we know. It's like a cascading effect. We emphasize that the older kids should also teach the younger kids."
Jenette Flores, DTCC coordinator, says, "Our motto here is the more you win, the more you serve."
Yeddah Marie Castañares is only 14 years old, but she has been teaching in the DTCC's outreach program for two summers now. She helps children in Cebu City's Mambaling area to learn the basic dance moves. Yeddah admits with a laugh that it's hard sometimes when they don't listen, but she perseveres because she can see herself in the bright-eyed and energetic kids.
Cialbo is a great believer in practice and hard work. Asked if a person needs to have a natural talent for dance to succeed in the sport, Cialbo says an athlete will improve as long as they practice regularly.
Mae Pabuaya, 25, who is Cialbo's dance partner, adds that a person just needs to have the determination and focus to do well in dancesport. The Cialbo and Pabuaya tandem has been earning medals left and right for several years now.
Dance is for life
Once the passion for dance is in your blood, you simply can't stop.
Crispin Sato Jr., 16, Yeddah's dance partner, hopes to become a fashion designer, but this multi-awarded dancesport athlete has no plans of giving up his dancing shoes. "My life will be very boring without dance," he says.
Minoru Yamada, a 69-year-old Japanese retiree, is one of the older guests who use the DTCC's dance studio. Yamada shares that he started dancing when he was 19 years old, but when he got married in his early 20s, his wife didn't share his hobby. They eventually parted ways. When he retired, he came to Cebu and continued dancing. Yamada said he likes music, and he likes moving his body to the rhythm. "It's also good exercise," he smiled. He also enjoys joining dance competitions.
Read more: http://cebudailynews.inquirer.net/104681/building-confidence-and-character-in-todays-kids#ixzz4KA3AupoF
Follow us: @inquirerdotnet on Twitter | inquirerdotnet on Facebook
Read more: http://cebudailynews.inquirer.net/104681/building-confidence-and-character-in-todays-kids#ixzz4KA2ogjz9
Follow us: @inquirerdotnet on Twitter | inquirerdotnet on Facebook