Underneath the glamor are years of hardwork
By: Frauline Maria Sinson
Cebu Daily News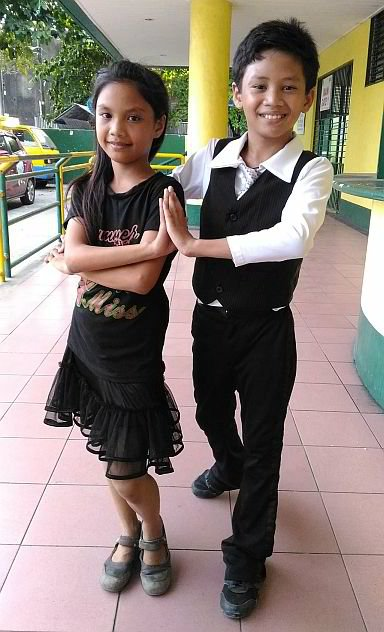 Siblings Ira Mae Christine and Martin Pedrano share a love for dancesports, an activity fully supported by their parents (Contributed photo/ Frauline Sinson)
Liza Pedrano once dreamed of becoming a dancer, but her family thought it was a waste of time. Now a mother of five, Pedrano is giving her all-out support for her two children who share her love for dancing.
Pedrano, a 35-year-old housewife from Barangay Cogon Pardo in Cebu City, watched her son and daughter from the sidelines along with other mothers, aunts and grandmothers who painstakingly bring the kids to the Cebu City Sports Complex for dance practice.
Exhaustion was evident on the face of Ira Mae Christine, 11, as she chugged down some water during a break. Beads of perspiration dotted 12-year-old Martin's upper lip and forehead as he chomped down on a piece of ensaymada as his snack.
Pedrano's kids have been busy preparing for their culminating activity at the World DanceSport Federation Cebu Open 2016 and 9th DanceSport sa Sugbu to be held on Sept. 10 at the Waterfront Cebu City Hotel and Casino. Practices have been held every day for weeks because of this competition.
During noncompetition season, practices are usually held Mondays, Wednesdays, Fridays and Saturdays.
Ira shyly shared that she likes the Latin dances — samba, chachacha, rumba, paso doble and jive — the most. Standard dances are slow: waltz, tango, Viennese waltz, foxtrot and quickstep. Eyes downcast, Ira added quietly she also likes that she can make her family proud.
In a separate interview, Martin smiled brightly as he professed his love for dance. It is hard to believe that four years ago, Martin was just a token partner for his younger sister.
Pedrano registered them both for the Barangayan sa Pardo, an outreach program of the DanceSport Team Cebu City (DTCC) that provides free workshops to children who come from underprivileged families. Ira badly wanted to join but needed a partner so they enlisted her older brother to help.
Martin said he never thought about dancing before but he grew to love dancesport during the workshop. Martin eagerly related that his friends at Pardo Elementary School are very supportive of him and even asked him if they could also join. Some of them tried, but most didn't last, he lamented.
For Martin, quitting dancesport is simply not an option.
Though they are no longer partners, since Martin moved up to the junior category when he reached the age of 12, the siblings remain supportive of each other.
Sacrifices
While her kids get the dancesport training for free, Pedrano said she and her husband still have to make sacrifices to support their children's dream. The daily commute alone from Pardo to the sports center is hard since she not only accompanies Ira and Martin but she also brings her two youngest kids along because there's no one who can look after them at home.
Pedrano said she also invests in dancing shoes for her kids. A pair costs P1,000 for girls and P1,200 for boys. There are different shoes for girls for the Latin dance (open tip) and Standard dance (closed tip). Costumes for girls are also different for Latin (above the knee) and Standard (below the knee).
Pedrano said her seamstress charges P500 to sew each costume. Pedrano provides the spandex, which she buys at P75 per kilo at a store in Minglanilla. A kilo of spandex makes three costumes, she says. Pedrano uses her husband's earnings as an electrician to pay for these items.
Jenette Flores, coordinator for the DanceSport Team, said that they try to help minimize the parents' expenses. There are donated costumes at the studio that the athletes can borrow for competitions. Also, under the rules of the World DanceSport Federation, young athletes are not allowed to put on makeup and accessories during competitions. Only one simple knee-level dress can be used for both Latin and Standard dance.
Agripina Leyson, 69, of Osmeña Drive in Labangon has five grandchildren — four boys and one girl — who are dancesport athletes. Whenever her grandkids qualify for out-of-town competitions, she pays for her own expenses just so she can accompany them. She has followed them to Manila, Iloilo and Bacolod. Seeing them compete on the dance floor is a source of great pride for this grandma.
Second Family
At 16, Crispin Sato Jr. is already a multi-awarded dancesport athlete. In his pursuit of excellence, Crispin admitted that he often misses out on out-of-town trips with his family because he has dance practice. It's hard being absent during these bonding moments, but at the same time, he can't imagine not having dancesport in his life.
Crispin's family is also very supportive of him. When he was just a little kid, he was always being asked to perform at family gatherings. When he was 10 years old, his mother brought him to a free dancesport workshop conducted by the DTCC in Barangay Apas. Back then, he was into jazz and had no idea what ballroom dancing was, but it didn't take him long to learn to love the sport.
Of all the competitive dances, Crispin said he loves to dance rumba the most because it enables him to express himself. Rumba is considered the slowest of the five competitive Latin dances and is characterized by a smooth, subtle hip motion and a heavy walking step.
Crispin's partner, Yeddah Marie Castañares, started dancesport when she was seven years old. Yeddah, now a 14-year-old third year high school student at the University of Cebu, is from Minglanilla. The third of five children, Yeddah is the only daughter in her family.
Yeddah said she gained a lot of friends through dancesport, and she considers the team as her second family.
Ankle injury is common for dancers. Fortunately, Yeddah said this never happened to her during competitions. But there have been times when she twisted her ankle during dance practice.
Since their partnership in 2015, Crispin and Yeddah have bagged numerous medals and trophies. They have so many that they literally have stopped counting them. But it's still not enough. The pair wants to emerge as World Champions someday. For them, it is the ultimate prize for all their hard work. (To be concluded)
Read more: http://cebudailynews.inquirer.net/104472/underneath-the-glamor-are-years-of-hardwork#ixzz4JgOQGdBS
Follow us: @inquirerdotnet on Twitter | inquirerdotnet on Facebook